Soritus offers dedicated development teams for all types of industry verticals serving myriad types of start-ups and mid-large scale businesses. If you're looking for a dedicated and talented team, growing beyond your local capabilities then Dedicated Software Team is the perfect solution.
Modern technologies allow business owners and employees to be more flexible and mobile. Usually the team is connected with each other using Laptops, tablets, smartphones, etc. This makes it easier for you to share reports, approve business plans, discuss wireframes, and take part in conference calls even without leaving your house. Such mobility has left its mark on business operations.
Now a days organisations of all sizes are focusing on hiringoutsourced dedicated development teams due to many benefits: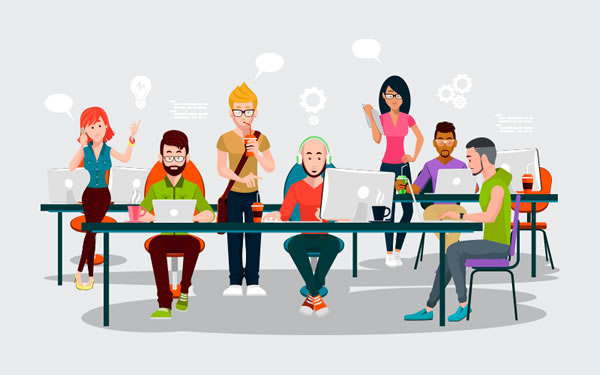 Hard skills
Access to global talent helps you to expand your technology stack capabilities. In-house developers can seamlessly collaborate with outsourced workers and get your project completed, tested and deployed in no time.
Flexibility
Agility is one of the core advantages here. A dedicated development team is basically an extension of your internal team which is fully engaged in the tasks. Specialists can help to deliver projects on time in the context of changing requirements and priorities. Such a process model is often implemented when additional resources are needed.
Collaborative engagement
Brainstorm sessions within the team always help to get transparent results and become more productive.
Some important reasons to hire a dedicated developer team:
Shortage of talented IT candidates

Cost savings, in terms of infrastructure and overhead expenses

Ability to focus on core strategies and services

Risk is minimized for trusted operating processes

Workload with strict deadlines
Technologies we serve:
Web
ASP.NET, ASP.NET MVC, ASP.NET Web API
NodeJS
AngularJS
PHP, CodeIgniter, CakePHP, Laravel
MEAN Stack
HTML5 & CSS3
Bootstrap & Responsive Design
Material Design By Google
CMS: Wordpress,Joomla
Mobile
IOS(Swift & Objective-C)
Android
Ionic
Phonegap
React JS Native
Xamarin
Ecommerce
Magento
Woocommerce
Opencart
Database
MySQL
MongoDB
PostgreSQL
Oracle
SQL Server
Latest technologies
Progressive Web Applications
Internet of Things (iOT)
Big Data
Optical Character Recognition (OCR)
AI: Face & Speech Recognition
Other
API Integration
Payment Gateways
Ejabberd & XMPP
How to actually make your dedicated team work?
To handle a dedicated team is an art, you need to create a healthy environment to make your dedicated team work as a team
There are many challenges that a team face, such as lack of any personal contact that has an unfortunate effect on productivity, conflict among the management and establishing a trustworthy relationship. So to build an effective team culture, some ideas are to be followed:
Updating daily or weekly on regular basis with the entire team make it easier for all the teammates to stay updated and keep everyone on the same page.

Try one to one meeting, especially if you plan long-term partnership or involving larger teams.
The Dedicated Development Team concept is mainly for the clients who possess an in-depth knowledge & vision of project workflow, possible flaws, and those who have a good mind to invest in the continued development of a quality product.
Hire our professional dedicated team of developers who will provide creativity to your project!
We aim for a long-term alliance with our clients - Call us now.!!