Magento is an open source e-commerce platform that offers organizations a complete flexibility over the look, content and functionality of their online store. Magento offers a wide range of e-commerce services such as development, design, hosting, customization, support and maintenance because of its scalability and extensive network support. It takes less time for the developers to build a product and integrate with the system.
Open Source:
Magento website development is preferred by numerous clients to build commercial websites as it takes less time and is cost effective.
Flexibility:
Magento e-commerce development allows a developer to include new features to an e-commerce site. The developer can easily customize any shopping cart or an online product.
SEO Optimized:
Responsive and Scalable:
Magento e-Commerce development allows accessibility on various mobile devices and thus, it helps in attracting more prospective clients to the e-portal. Magento is a scalable solution that can be used by all.
Multiple Storefronts with Single Back-End:
This feature allows Magento developers to add shopping stores to the website, including thousands of products and catalogs which provides stability to shopping experience to all customers.
Cross-Browser Compatibility:
Magento development is highly compatible with different browsers, thus there is no limitation on its usage.
Third Party Software Integration:
Magento development services can be easily unified with third party programs and software including CMS platforms like WordPress that are essential for your business. It also integrates with
Multilingual and Multi-Currency:
Magento e-Commerce services support multiple languages and varied payment methods.
Seamless Checkout Option:
Magento development services have seamless check out option which allows the customer to avail a single checkout facility for all the products instead of individual checkout. This leads to a lesser number of vacant shopping carts during checkout.
Know why to choose Soritus for Magento Services
Our team of extremely talented Magento certified developers ready to deliver result oriented web development services to enhance your business. Have a look at our below listed Magento development services that include -
Customized Magento e-Commerce development services complying with the client's requirements

Timely version upgrades, security add-ons and regular store maintenance

Huge expertise in Magento theme development and integration of custom Magento themes

Proficient in Magento installation, configuration, landing page design and customization

Optimized with Magneto Optimization technique for better user experience

Provide appropriate guidelines to the client regarding cloud servers

Help our client to migrate from Megento 1 to Magento 2

Progressive web app development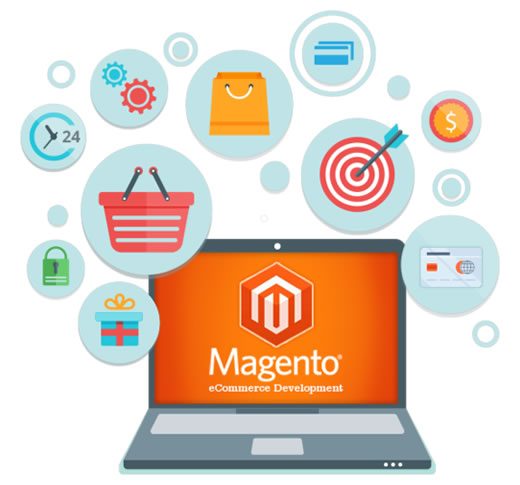 We work for your e-Store to make your online business vision come true. Our designers and developers can work together to provide an eye catching theme for the e-store along with ease of using features and functionality.